This past weekend, my best friend Pat chose to have his bachelor party in Atlantic City. We went up Friday and came back Sunday. It was his first time as well as mine (the others have been there before). I've never gambled before and I was nervous at first. But now that I have, I love it! Here is a picture of my rag tag group:
[img]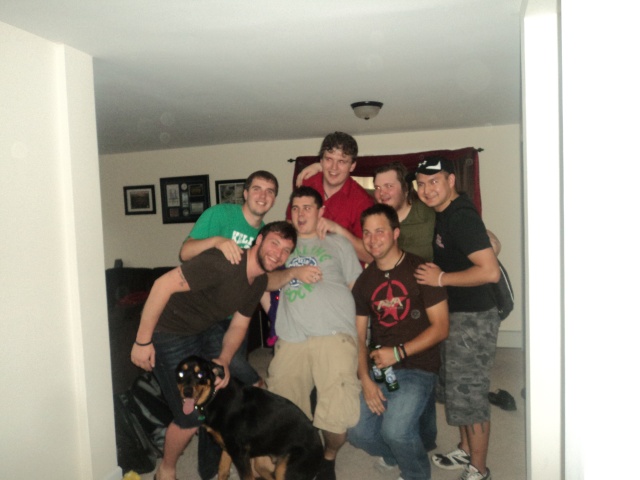 [/img]
A power line snapped near the house so the power was down. We were all sweating our balls off so we were glad we were able to take off in our air conditioned cars. Because there were too many of us, we separated into two cars (although I didn't get to sit with the bachelor, I sat with the better guys of the group cause a few are mad annoying lol).
There was no traffic so we got to Bally's, our hotel, pretty fast. It was about 11pm (we left late cause damn work schedules). We went to the room, changed, and saluted to the night with scotch, vodka, and soco.

We went to the Wild West Bar for $2 beers and $3 mixed drinks (prices here are mad better than my life back at home). After downing drinks for about 2 hours, we went to the tables in Caesars. I didn't gamble this first night cause my funds were low, so I just drank (though that is not bad in my book). 4 of the group sat at the black jack table while the rest of us watched. I didn't want to stay too long so me, Pat, and Big Mike went to play slots. We put in $20 each. They lost it all and I cashed out with $27 (wooo! $7!) We went back to the black jack table and drank while watching the others play. At 5am, we went to bad and passed out.
Unfortunately, when I'm drunk, I wake up early (woke up at 8am).

Listened to my music for another 2 hours while the others slept. Extremely bored, I went to the very nice pool to relax and have some beer. When I got there, it cost $10...10 freakin' dollars to use a pool that comes standard with any other hotel!!! WTF! Pissed, I go to the nearby bar and down a few beers (at around 10 am! boohyeah). I get back to the room around 11 and everyone is finally waking up, showering, all that jazz.
We get to the board walk and travel to the Tropicana. A nice restaurant, we kept it small for lunch to save money for our big dinner at Mortons. The rest of the time, we played pool, drank, and just hung out at Bally's and their smaller casino...and drank more of course. Around 7, we get dressed in our fancy getups and head to our most expensive dinner ever. Look how sexy we all are!
[img]
[/img]
Out of all of us, yours truly got the most looks from the beautiful ladies of Atlantic City cause I rocked that pink!

We all order different types of steak, order a bottle of wine, and stuff our faces (neatly of course). I think this is the only time we didn't drink a lot cause the drinks were like $10 each (the bottle was $70). From here, we go back to the room, strip to normal clothing, salute with more booze, and head out to the pier for some cigars. I didn't know what to do at first cause it was my first time but it was a lot more fun then I thought it would be. Half way through smoking, our friend Schoepe was attacked by this ugly ass, hot mess cougar.

[img]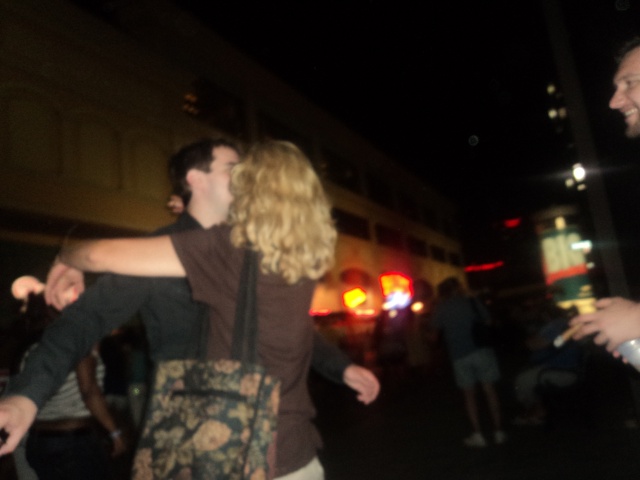 [/img]
We literally high tailed it out of there and ran into a bachelorette party ("You're a bachelorette party? We're a bachelor party!...Now way!") It was epic and they were f.i.n.e, FINE! That bachelorette was freakin' gorgeous! They went to Dust, a club with a $25 door fee...F that! We hit the tables at Caesars again (totally lost track of time and a dead battery for my camera). Apparently, it's free liqour at the tables with $1 tips...omg winz! Here is where I lost a crap load of money but luckily I was good enough to just gain it all back to make almost break even for the trip (only lost $30).
I separate with 2 of the guys to go back to the Wild West Bar for cheap beers and a GREAT showing of dancing cowgirls...my god their bodies!!! We all met back at the hotel room at 6am and passed out. The next day we all wake up (groggily) and head home (after wading through 3 hours of traffic).
All in all, a VERY successful bachelor party. So much booze, women, and gambling.